Free casual photo walks then breakfast with Rob Suisted
Register your interest for the next event below.
Wellington South Coast, 8am Saturday 10th Sept 2011 (now closed).
UPDATE: 2 Sept 2011 : We've had a lot of interest, and are notifying successful registrants today. Good news: because of the interest, we'll be running a 2nd photowalk shortly, so still add you interest below and we'll notify you of the next opportunity. Thanks.

Wellington South Coast, Cook Strait and Kaikoura Mountains.
What?
An outdoor photography walkabout with like minded people. Rob Suisted is keen to facilitate a small group of keen people interested in nature photography.
Rob has run photo walks in the Arctic, Antarctic, and other places in between, but never locally.
The aim is to meet, have a walk taking photos and sharing knowledge for around 90mins, then convene for breakfast at a good local cafe to carry on the conversation and have a laugh. Rob will also have his equipment on hand that you can check out. Emphasis will be on in the feild, rather than behind the computer.
The rest of the day is yours. It's a first trial, but if successful we'll do it more often.
Why?
It's great meeting new people, and sharing creative inspiration and knowledge. Coming into spring is a great time to get motivated! Read on, and register below...
When & where?
We're planning a future Wellington event for October. Register below and we'll keep you posted.
NOW CLOSED: 10th September 2011, Saturday at 8am. We want to do the Wellington South Coast, but exact location will be advised (weather etc permitting).
Is it for me?
Hopefully you're a keen amateur (not professional, or semi professional), that has a love of the outdoors and capturing it in camera. Preferably a DSLR owner with at least a basic understanding of your equipment. Sensible shoes, reasonable fitness and confidence off the footpath are good.
You don't need expensive gear; it's about attitude and sharing.
Ideally you're open, friendly and willing to engage and share your ideas with others for everyones benefit, and want to stay together as a group for the walk and the breakfast/discussion afterwards.

Rob Suisted photo guiding, Greenland, Arctic.
Act now...register your interest.
It's free to participate, but we're limiting the first one to 12 people. If you'd like to be involved then fill in the form below and we'll let you know with plenty of time to get organised. If we're over subscribed we can add you to an email list for the next one (or follow Rob on Twitter

to get updates).
We're planning future events, so by registering your interest below, we'll email you updates.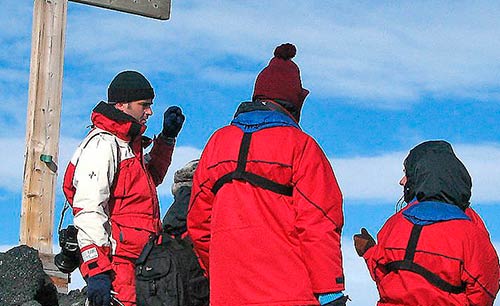 Rob Suisted photo walk at Scott's Hut, Ross Sea, Antarctica.
What will I need?
Camera, warm clothes, sensible shoes, some $ for your breakfast, and a sense of humour. You'll need to find your own transport to the start.
Who is Rob Suisted?
Rob Suisted is one of New Zealand's most established & best known photographers.
You may own one of his 9 books, licked one of his 8 NZ Post postage stamps, or purchased one of the many calendars he produces each year? Or maybe you've noticed the huge photo murals that welcome arrivals at our large international airports, or the photographs used by Tourism New Zealand and travel guides to lure travallers to our shores?
Rob also regularly shoots features for New Zealand Geographic magazine. He's mentors a 'Young Guns' up and coming photographer in their mentoring programme, and is one of the judges for the 'NZ Geographic Magazine, NZ Photographer of the Year' awards.
He provides images to a national and international range of clients. Works with businesses and government departments to provide photographs that make his clients successful.
Listen to a New Zealand National Radio Interview, or read a North & South Magazine article on Rob.
Rob also regularly travels to the Antarctic (15 times so far) and/or Arctic as a expedition guide & photographer.
His stock photo image library Nature's Pic Images was the first photographic stock library online in New Zealand and contains over 50,000 high quality images of NZ.
1000's of his photographs are also available as high quality canvas photo art prints at: www.RobSuistedonCanvas.co.nz.